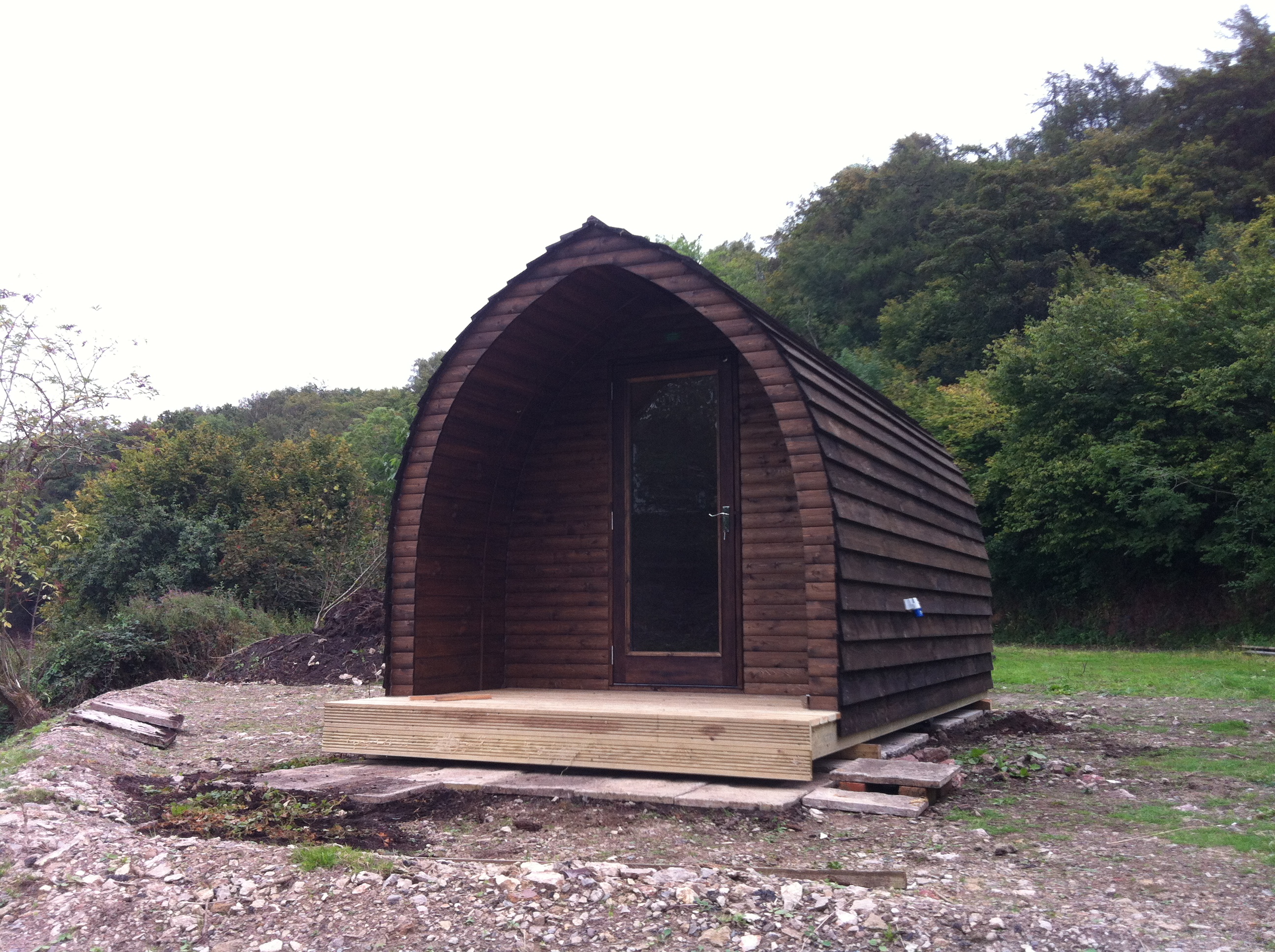 Lincs Pods
Our Camping Pods are handmade, using the finest products available, ensuring that your pod will last for many years to come.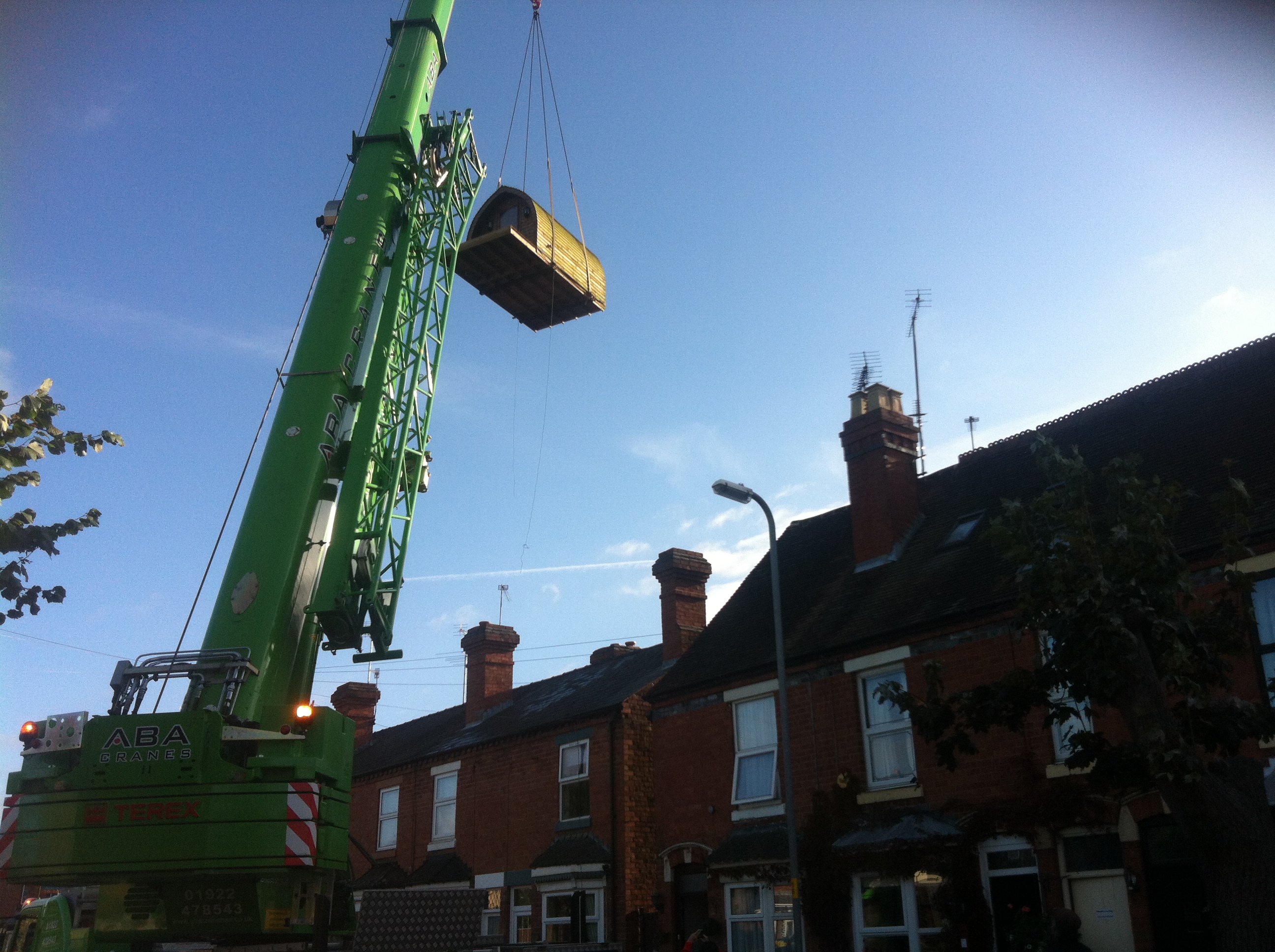 Craning A Pod Over A House
Access problem?  No problem. If you have the space, we can get it there.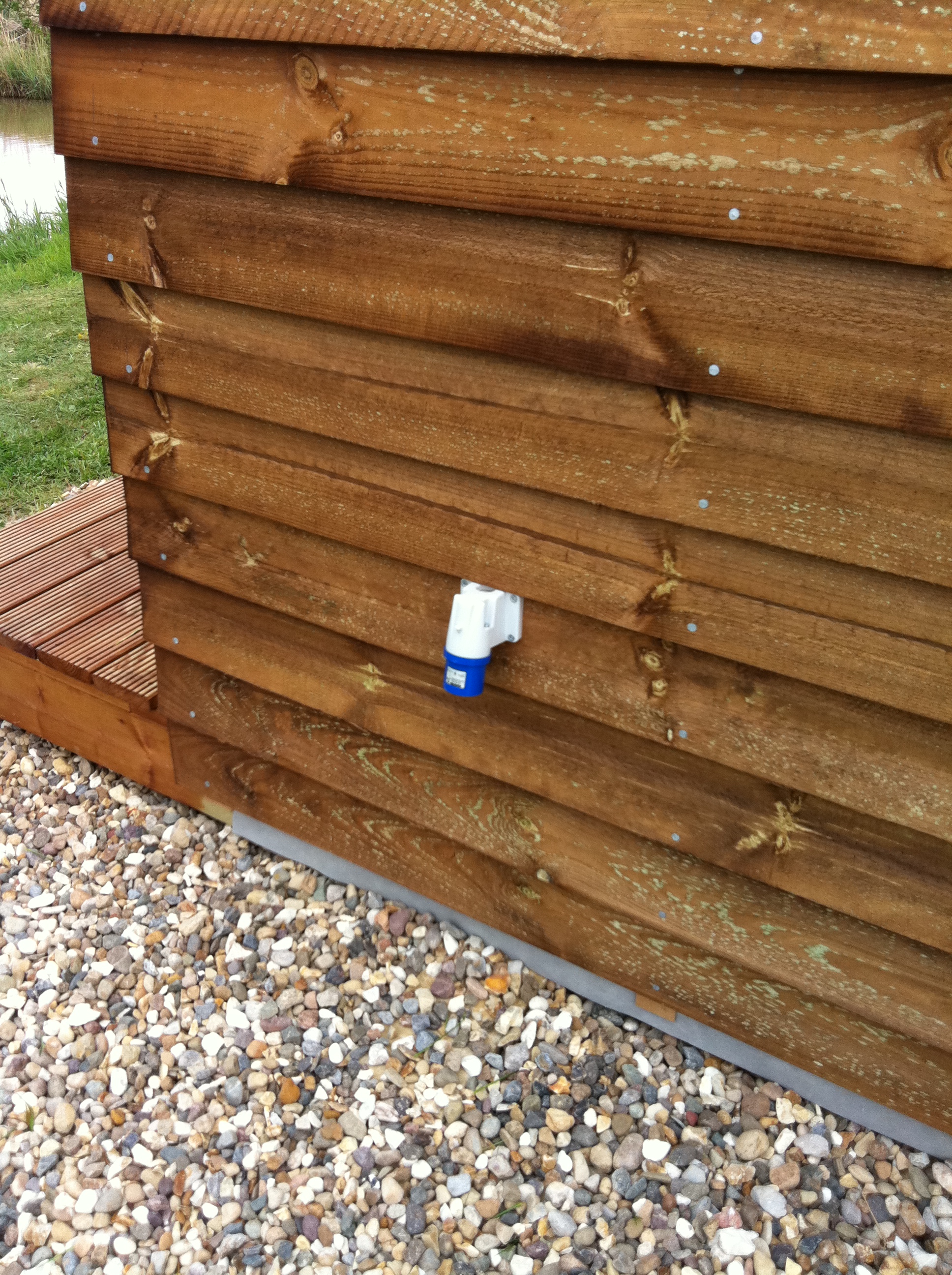 All Our Pods Are Fitted With Caravan Electric Hook ups
Standard Caravan Electric hook up.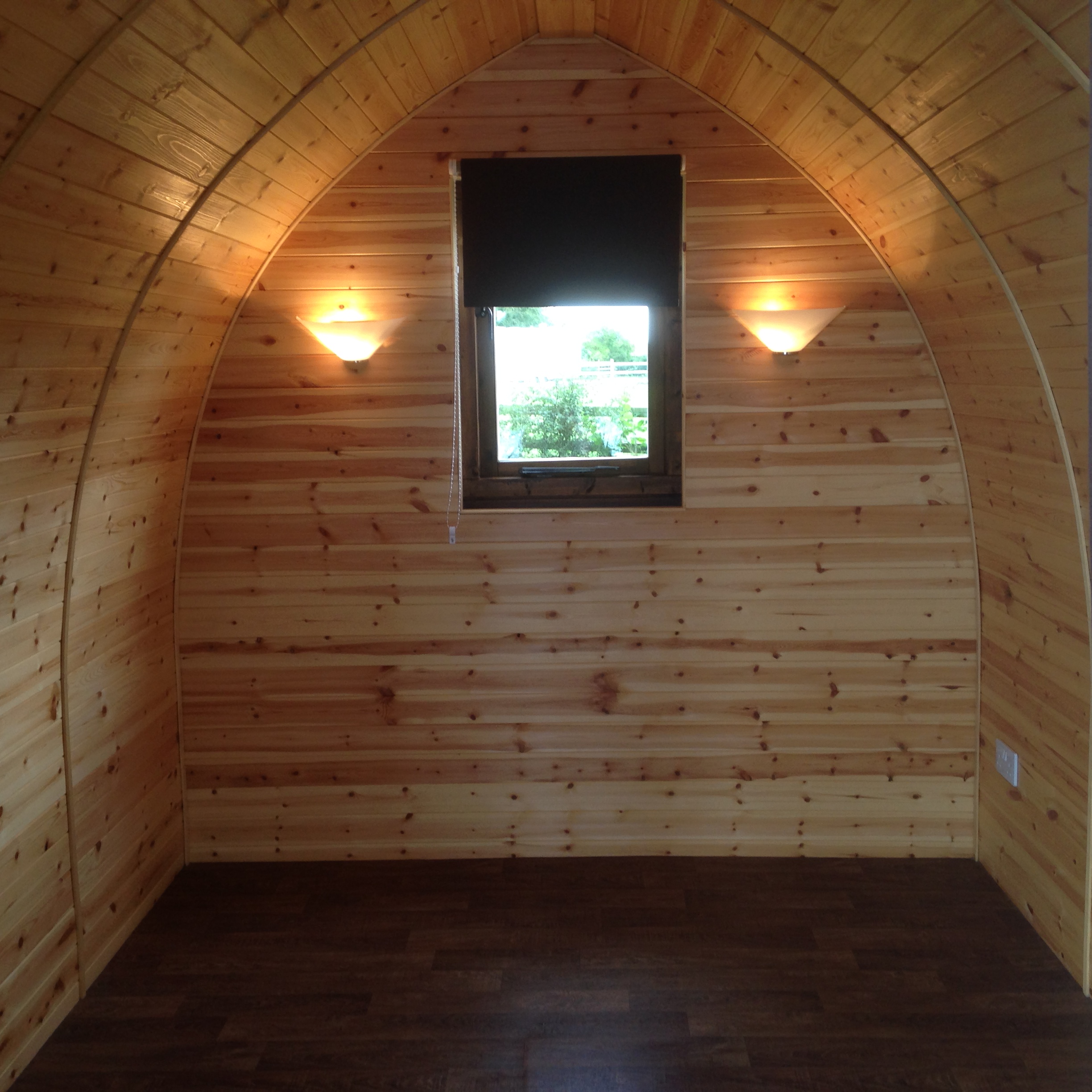 Inside one of our pods
Whatever your need  for extra space, our pods are the perfect solution.
"Lincs Pods" is a family company, based in Lincolnshire, involved in joinery since 1948.
Our Camping Pods are handmade, using the finest products available, ensuring that your pod will last for many years to come.
They are commercially available for use on campsites, fisheries, nature reserves and retreats. Or, simply use one in your garden as a home office, summer house, garden room, meditation space, or children's den (great for sleepovers).
Whatever your need for extra space, our camping pods are the perfect solution.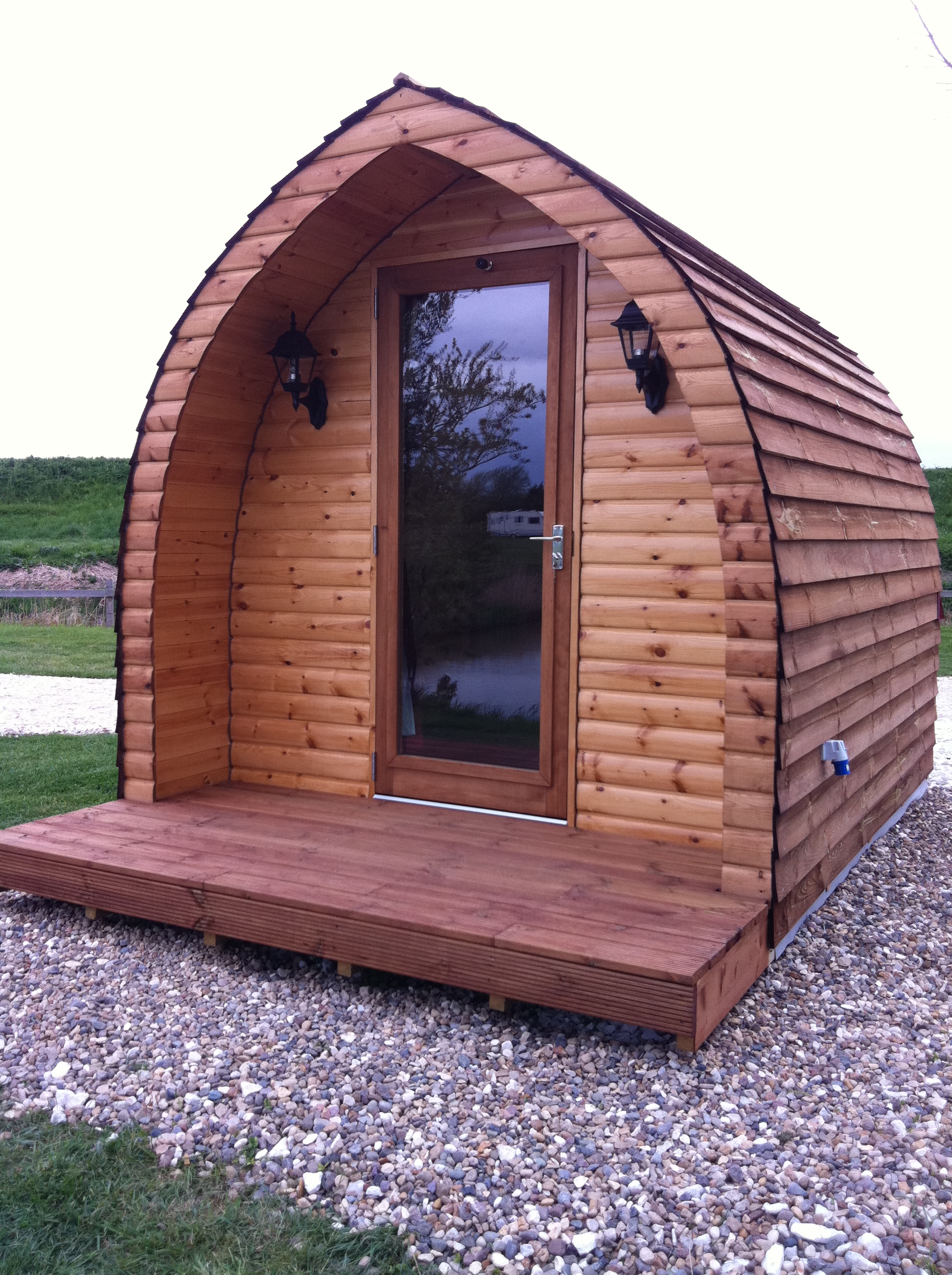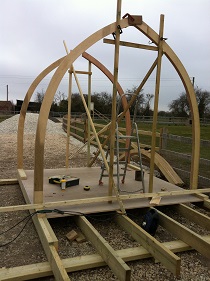 Our construction starts with a 6"x2" pressure treated frame (compared to some of our competitors who only use smaller section timber, reducing cost & stability). On this is a 18mm external grade plywood sub floor, which makes the base of the pod (compared to some who use an inferior grade plywood sub floor).
The tri bonded birch ply arches are then added to the sub floor (these are more stable than just a timber frame, used by some manufacturers which can warp & twist). Following the arches is the waterproof membrane which is fully breathable which helps against condensation. Then the anti- condensation fillet, ensuring there is no direct contact with the outer skin and in doing so creates an air flow for ventilation.
The outer skin is pressure treated feather edge timber, attached using galvanised nails to the arches to prevent deterioration .Where as some manufacturers use ship lap which will hold water within its grooves. Our front & back walls of the pod are constructed from 38mm x 90mm  CLS timber (others often use a small section of timber for the front & rear wall structure which reduces the size of Insulation being able to be fitted).
The external surface of the front & back walls are clad with 25mm x 125mm log lap creating a more natural & traditional finish (some are using match board to both the external front & rear walls, which is a far cheaper product & in doing so doesn't give the natural & traditional finish). Our walls in the pod are fully insulated using 100mm thick insulation (where as some use a thinner & less effective insulation). Our Internal skin of the pod is then cladded with PTGV 13mm x 100mm match board – Class A (some other manufacturers use plywood to finish the internal surface).
Our camping pod floors are overlaid with 25mm "Celotex" foiled back insulation & then overlaid with a 18mm structural WPB ply. As far as we are aware, we are the only manufacture to insulate the camping pod floor, ensuring minimum heat loss. The window in the rear of the pod is UPVC Double Glazed, with a full sized opening. The UPVC Door is also Double Glazed with a toughened unit and multi locking system.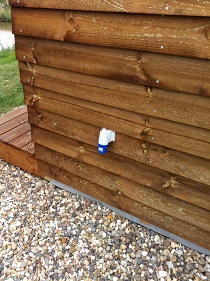 Our pods have all wiring hidden in the cavity of the walls. Included in our standard pack is a Hager consumer unit (fused).
Two switches, one for the internal wall light, the other for the external wall light. 1 x double socket and a supply for an electric wall hung fire. Outside the pod is a pre – fitted & wired caravan connection. All our electrics are fitted by a fully qualified electrician. The external front & rear of our pods are finished in a Black Friar preservative .
The internal walls of our camping pods are finished with a clear satin varnish. Our camping pods are built to a high specification to ensure low maintenance & to give a long life span with many years of enjoyment.
Good Afternoon to you both,
Our three Pods are almost paid with bookings between April and October . . .  .
We want to order another three – when would we have to order them for
March delivery ?
Hope you are both well and business is good.
Regards
Robert and Julie Robert & Julie Pickthall (C2C Hassle Free, Penrith, Cumbria) - 31st October 2014
Hi Neil,
Just wanted to say a big thank you for the pod and your help today in setting up. The pod is spot and looks great – I can't wait to get my garden office up and running. You've been really helpful throughout the process and the photo updates on progress were fantastic. Having chosen you is a good reminder that it's great to do business with nice people!
Paul Sinfield – Director, Sinfield Associates – 30th October 2014
We have recently bought 6 camping Pods for our site. They have quickly become a firm favorite with out customers and bookings are good. It's a good product with a high standard of construction, they are easy to install and were ready ahead of schedule!
Ian Edmondson – Country Park Manager (Woodhall Country Park) – 14th August 2014
Grooby's Pit
Steeping Road,
Thorpe St Peter, Skegness, Lincolnshire
PE24 4QT, United Kingdom
Contacting us could not be easier! Use the form to your right or give us a call…
Hello and welcome to
campingpods4u.com
, Any questions at all, regarding our products, please contact us using the form to your right. Please note if you send us an e mail we will get back to you within the hour (From 8am til 9pm). If you do not receive an e mail back we have not received it. Alternatively ring us on 07449 488 234 or 07427 137 463 Thanks Neil & Tracy Murten.